Hello lovelies! My Birthday is coming up (March 5th to be precise) and I thought I would do a wishlist of the moment with a few things I'm loving.
For those of you who don't know (I think in this case that's few) I am obsessed with teddies. When I spotted this vintage sweatshirt on Asos it was love at first sight.
These shoes are so adorable. I basically live in different pairs of black ankle boots so I'm dying for some variety. I've seen a few of my favourite bloggers with similar ones and they always look so simple, fresh and cute. I can see these paired with some tie dye frilly socks.
I feel like this is such a wardrobe staple but I have barely endeavored into Maxi territory. You can layer it for Winter and it would also be fab in Summer on the beach. Also it's on sale for £10! Going to order this soon!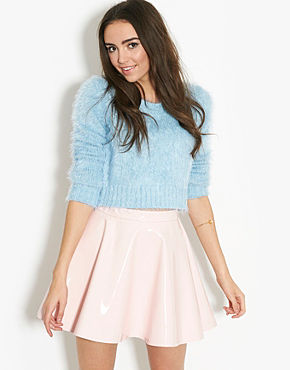 Desperate for a vinyl skirt at the moment, extra brownie points if it's a pastel one. I love the contrasting texture it can add to an outfit.
Franny and Zooey and Will Grayson, Will Grayson
Both of these books have been highly recommended to me. The first by Tavi in her talk at the Opera house and the second by many of my friends. I have so many books I want to read and this is only the start of the list.
Those are a few things I'm saving for/loving at the moment. Let me know if you find something you think I will like and tweet me HERE because I have been using my twitter a lot lately!
-Lexi xo